Our NO reason required - 100% money back guarantee
We want you to be completely satisfied with our products, quality & service

All standard item orders in unused condition have our No reason required 30 days returns

Our returns service is free & 100% refund including all delivery charges will be refunded on return

All orders are despatched by courier service only for reliability & tracking information updates
Additional 15% DISCOUNT & FREE Delivery* Applied to all orders above £150 (excluding VAT)
Additional 20% DISCOUNT & FREE Delivery* Applied to all orders above £500 (excluding VAT)
We are currently only delivering to the United Kingdom Mainland Destinations
Next Day Delivery Option (UK Mainland) - Stock Items Only
Next day delivery is available for orders placed before 3.00pm (UK Mainland Only) @ £10 per order (Inc Vat)
Orders placed after 3.00pm will be despatched the next working day
Orders placed on Friday will be delivered the following Monday
Saturday delivery option is available at the checkout page on Friday's
Orders placed at weekend will be despatched Monday for delivery Tuesday
Highlands & Northern Ireland * Next day delivery service will be sent on 2 day delivery service
We are currently only delivering to the United Kingdom Mainland Destinations
Cut & Sewn Made To Order Items Delivery 7-9 days @ £10 per order (Inc Vat)
Super Saver Delivery
Cut & Sewn made to order items delivery 10 -14 days @ £5.00 per order (Inc Vat)
In stock items delivery in 3 - 4 days @ £5.00 per order (Inc Vat)
Applies to UK mainland only.
Your order will be shipped with DPD. Pick a safe place or a preferred drop off shop and much more.
Download the

DPD App

which will help you manage your delivery.
Entering your mobile number at the checkout will enable DPD text delivery alerts.
DPD will email you the night before your order will be delivered,
you will also receive an email on the morning of delivery giving you a 1 hour delivery window.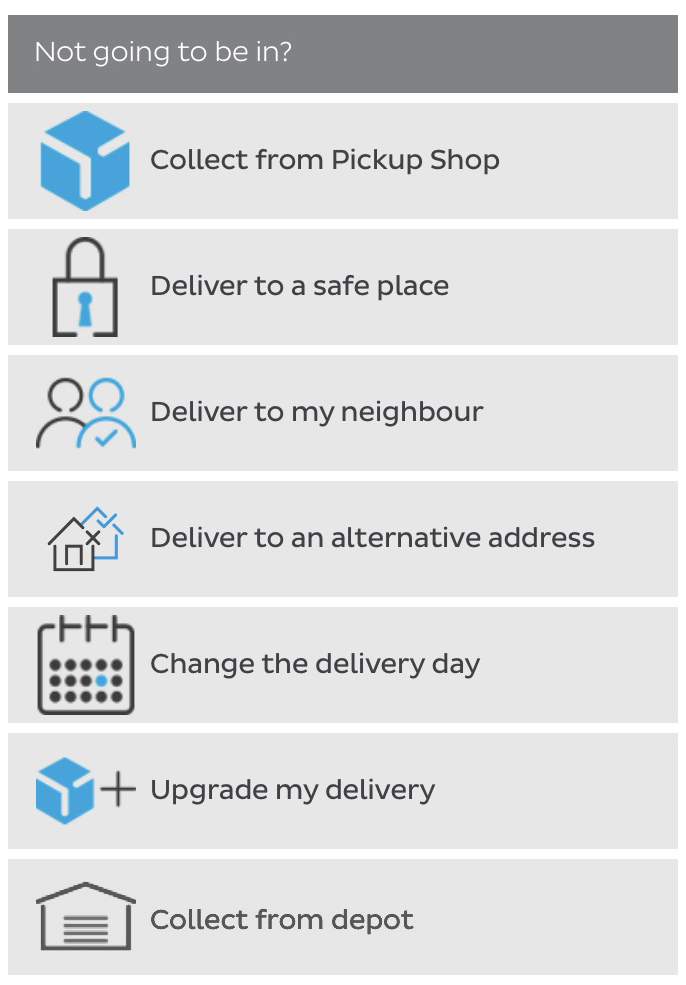 We are currently only delivering to the United Kingdom Mainland Destinations
Multiple items can be placed on one order, with one delivery charge as long as your order is being delivered to the same address.
We use Parcel Force and DPD courier service for reliability of service.
Can I have free delivery?
Yes free standard delivery is applied to all orders above £150.00 (excluding VAT)
Additional surcharge £5.00 for Jersey, Guernsey and Isle of Man.
Can I have discount on my order?
Yes 15% DISCOUNT applied to all orders above £150 (excluding VAT)
These options will be automatically applied at the checkout stage no coupon or code required.
Can I have an Express delivery?
Yes we can offer Express Delivery.
Please call the sales team before placing your order to make sure we can meet you requirements.
Additional surcharges apply for this service.
Can I have a specified time for delivery?
Yes we can offer before 12 noon or next day delivery.
Additional surcharges may apply for this service
We email you when we despatch your order
On despatch, we will send you a notification email alerting you that we have sent your order.
How and when will my order be delivered?
Orders are delivered Weekdays Monday - Friday ( weekend deliveries are availble subject to delivery surcharge.)
Orders will be delivered within 24 - 48* hours of being despatched between 9am and 5pm during the week. .
(*Applies to Mainland UK only, all other destinations will take longer.)
What will happen if I am out when you deliver?
If you are unable to receive the delivery then a card will be posted. This card offers you a number of options including an alternative day for delivery, a safe place to deliver (such as a neighbour) or collection from postal depot.
Can I have a Worldwide delivery service for outside the UK?
We are currently only delivering to the United Kingdom destinations
All standard item orders from Love Tablecloths in unused condition come with a no reason 30 day money back guarantee.
In the event that you are not completely satisfied with your product, please notify us within 30 days of receiving your order.
Return requests after 30 days will not be accepted.
After receiving your return request within the 30 days from receipt of your order, the Items to be returned must be received back to us within 14 days.
Returns after the 14 day period will not be accepted.
Bespoke items are non-returnable unless defective.
For Approved returns we will then provide either a 100% full refund or offer a replacement at your preference.
100% full refund also includes any delivery charges made on your order.
*In the event that only part of the order is returned, the goods will be fully refunded but the delivery charge will not be refunded.
Defective items
Refund or a replacement option will be provided on any items that are defective.
How to return your item
Before returning goods please contact Love Tablecloths customer service on Tel 0800 612 1379 or use our Contact Form with your order number details #8107*******.
We will then email your courier return label & the return can be dropped off at any local or main post office.
Orders of over 10 KG we will arrange a free courier collection service on request.
Refunds
Refunds or a replacement will be given on standard items unused products or defective items only.
Bespoke items are non returnable unless defective.
Return items to the address below.
Love Tablecloths
Oswaldtwistle Mills Business Centre
Clifton Mill
Pickup Street
Oswaldtwistle
Lancashire
BB5 0EY
..
My question isn't listed above?
For any questions you may have please contact customer services.
Tel 0800 612 1379 Mon/Fri 9.00-5.00pm