Ice White 178 x 178cm (70/70")
White Square, Rectangle & Circular Tablecloths Available from stock in multi pack sizes
Ice white napkins & tablecloths
Approved hospitality standard for 20 years
Last up to 10 times longer than cotton tablecloths
Soft natural touch, stain resistance & quick iron finish
Woven 100% polyester textured & vortex spun yarns
High performance material, low shrinkage 235 GSM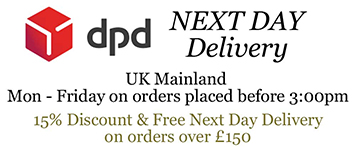 Buy 5 for

£12.60

£10.50

each and save

19

%
Ice White Napkins & Tablecloths
Square, Rectangle & Circular Round White Tablecloths 
White tablecloths sizes 35" x 35" upto 130" no seams or joins 
White napkins 20" x 20" 1cm standard stitched folded hems  
Table Master Branded Ice White Napkins & Tablecloths 
Ethically sourced , environment certified & 100% recyclable
Durable and last up to 10 times longer than cotton tablecloths 
Approved catering, hotel & restaurant tablecloths standard for over 20 years
Ice White Napkins & Tablecloths Specifications
Ice White - Ultimate Whiteness
100% Textured vortex staple polyester fibre yarns
High specification weight 235 GSM  
Woven textured material - No sheen
Natures touch textured plain weave 
Soft cotton tactile feel
Instant absorption. - No spillage run off
Stain resistance
Requires only a 50c low energy wash
Resistance to acid and alkali
Low colour fade
Reduced pilling and linting
Anti snag properties
Starch finishes and fillings can be applied
Quick iron properties
Excellent shape retention
Standard 1cm folded hem on napkins and tablecloths
Circular round tablecloths have a bulk overlock stitch hem
No joins or seams in large tablecloths sizes 
Durable and last up to 10 times longer than cotton tablecloths 
Saving time and money
Buy in multi pack sizes
Delivery available by courier next day subject to stock availablity
The photograph below shows the standard 1cm folded hem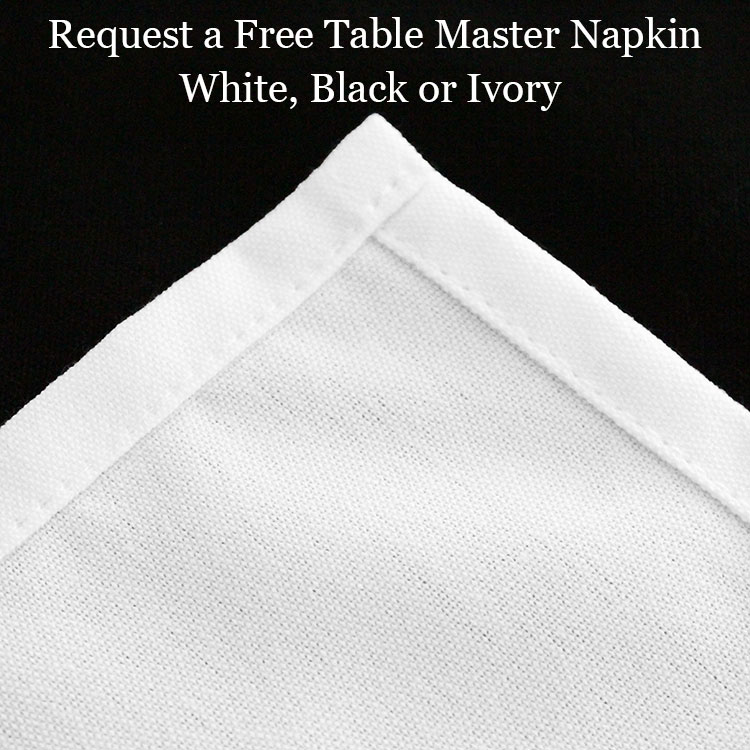 Our NO reason required - 100% money back guarantee
We want you to be completely satisfied with our products, quality & service

All standard item orders in unused condition have our No reason required 30 days returns

Our returns service is free & 100% refund including all delivery charges will be refunded on return

All orders are despatched by courier service only so we can track your orders
SPECIAL OFFER:
Additional 15% DISCOUNT & FREE Delivery* Applied to all orders above £150 (excluding VAT)
Next Day Delivery (UK Mainland) - Stock Items Only
Next day delivery is available for orders placed before 4.00pm (UK Mainland Only) @ £10 per order (Inc Vat)
Orders placed after 4.00pm will be despatched the next working day
Orders placed on Friday will be delivered the following Monday
Saturday delivery option is available at the checkout page on Friday's
Orders placed at weekend will be despatched Monday for delivery Tuesday
Highlands* Next day delivery service will be sent on 2 day delivery service
Northern Ireland * Next day delivery service will be sent on a 2 day delivery service
Ireland * Next day delivery service will be sent on a 2-3 day delivery service
Cut & Sewn Made To Order Items Delivery 7-9 days @ £10 per order (Inc Vat)
Super Saver Delivery
Cut & Sewn made to order items delivery 10 -14 days @ £5.00 per order (Inc Vat)
In stock items delivery in 3 - 4 days @ £5.00 per order (Inc Vat)
Applies to UK mainland only.
Your order will be shipped with DPD. Pick a safe place or a preferred drop off shop and much more.
Download the

DPD App

which will help you manage your delivery.
Entering your mobile number at the checkout will enable DPD text delivery alerts.
DPD will email you the night before your order will be delivered,
you will also receive an email on the morning of delivery giving you a 1 hour delivery window.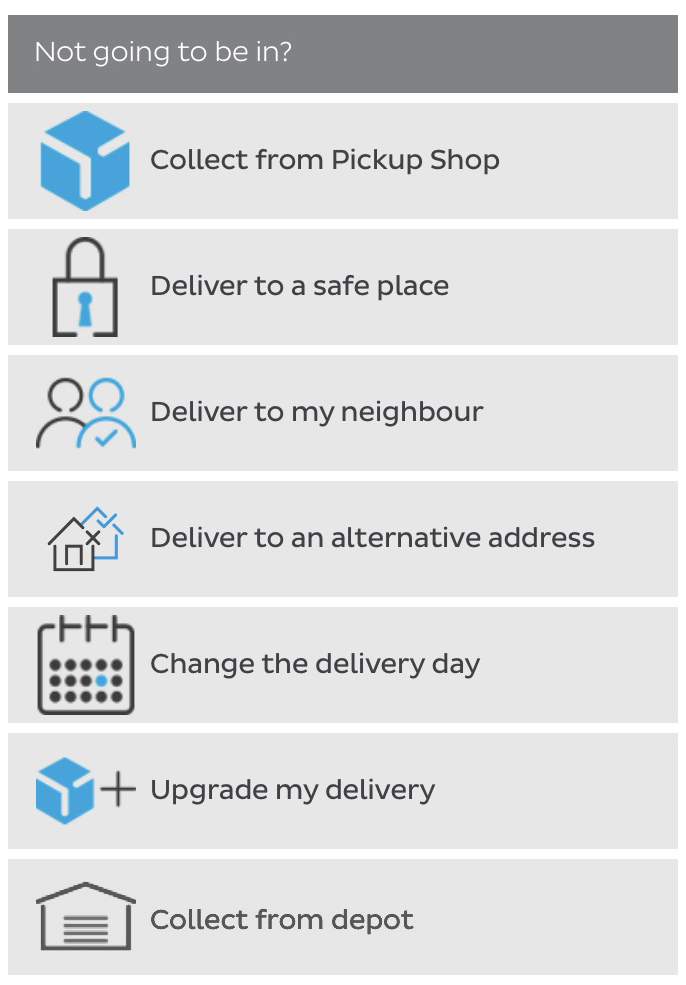 Cut & Sewn made to order items delivery 14 - 21 days
In stock'Items delivery 5 -10 days
Non Mainland UK (Orders VAT exemption when applicable on the final payment page)
Delivery charge of £15.00 for Ireland, Jersey, Guernsey and Isle of Man
Orders above £150 reduced rate delivery charge £5.00
Multiple items can be placed on one order, with one delivery charge as long as your order is being delivered to the same address.
We use Royal Mail, Parcel Force and DPD courier service for reliability of service.
Can I have free delivery?
Yes free standard delivery is applied to all orders above £150.00 (excluding VAT)
Additional surcharge £5.00 for Ireland, Jersey, Guernsey and Isle of Man.
Can I have discount on my order?
Yes 15% DISCOUNT applied to all orders above £150 (excluding VAT)
These options will be automatically applied at the checkout stage no coupon or code required.
Can I have an Express delivery?
Yes we can offer Express Delivery.
Please call the sales team before placing your order to make sure we can meet you requirements.
Additional surcharges apply for this service.
Can I have a specified time for delivery?
Yes we can offer before 12 noon or next day delivery.
Additional surcharges may apply for this service
We email you when we despatch your order
On despatch, we will send you a notification email alerting you that we have sent your order.
How and when will my order be delivered?
Orders are delivered Weekdays Monday - Friday ( weekend deliveries are availble subject to delivery surcharge.)
Orders will be delivered within 24 - 48* hours of being despatched between 9am and 5pm during the week. .
(*Applies to Mainland UK only, all other destinations will take longer.)
What will happen if I am out when you deliver?
If you are unable to receive the delivery then a card will be posted. This card offers you a number of options including an alternative day for delivery, a safe place to deliver (such as a neighbour) or collection from postal depot.
Can I have a Worldwide delivery service for outside the UK?
Yes, we use Parcel Force Worldwide Global and DPD delivery services.
From despatch average delivery time Worldwide within 7 days.
For all Worldwide delivery enquiries please contact customer services.
Tel 0800 612 1379
Returns
All standard item orders from Love Tablecloths in unused condition come with a no reason 30 day money back guarantee.
In the event that you are not completely satisfied with your product, please notify us within 30 days of receiving your order.
Return requests after 30 days will not be accepted.
After receiving your return request within the 30 days from receipt of your order, the Items to be returned must be received back to us within 14 days.
Returns after the 14 day period will not be accepted.
Bespoke items are non-returnable unless defective.
For Approved returns we will then provide either a 100% full refund or offer a replacement at your preference.
100% full refund also includes any delivery charges made on your order.
*In the event that only part of the order is returned, the goods will be fully refunded but the delivery charge will not be refunded.
Defective items
Refund or a replacement option will be provided on any items that are defective.
How to return your item
Before returning goods please contact Love Tablecloths customer service on Tel 0800 612 1379 or use our Contact Form with your order number details #8107*******.
We will then email your courier return label & the return can be dropped off at any local or main post office.
Orders of over 10 KG we will arrange a free courier collection service on request.
Refunds
Refunds or a replacement will be given on standard items unused products or defective items only.
Bespoke items are non returnable unless defective.
Return items to the address below.
Love Tablecloths
Oswaldtwistle Mills Business Centre
Clifton Mill
Pickup Street
Oswaldtwistle
Lancashire
BB5 0EY
..
My question isn't listed above?
For any questions you may have please contact customer services.
Tel 0800 612 1379 Mon/Fri 9.00-5.00pm



Payments for orders can be made with all major credit / debit cards, PayPal, bacs payment or Cheque.
(American Express, Visa Debit, Visa Electron, Visa Credit, Mastercard Credit, Mastercard Debit & Maestro UK.)
All website order payments are transfered via our secure payment gateaway using SSL encryption between providers, alternatively you may use *Paypal as your payment method.
*PayPal payment checkout can also be used for all major credit card payments.
You don't need to have a PayPal account and you will receive all the benefits of PayPal ordering with payment protection & assurance sevice.
Either way your assured of a simple straightforward & secure transaction.
Do I need to pay VAT
Guernsey, Jersey, Ireland and European orders
Vat will automatically be deducted on the final payment page
Bank Transfer & Proforma Invoice option before making a payment
For orders of £150.00 & above (Exc Vat) Please use the

"Proforma Invoice Request" option at the Checkout Page
Choose and select the items you require & add to your shopping basket
Complete the checkout with your contact details & address information
Select the

"Proforma Invoice Request" option
Select 'Place Order'

Your Confirmation will then be sent by email
On receipt of payment the order will be processed & Vat invoice will be sent by email

Payment methods options:

Phone payment credit / debit card
Bank transfer
Cheque by post

Bank details
For BACS payments
Barclay's bank
Sort code: 20 09 80
Account: 23223787
For Phone orders please call Tel 0800 612 1379 and we will arrange to send an order confirmation proforma invoice.
We will also complete all supplier applicaton forms when required.
Payments can be made with all major credit cards, PayPal, bacs payment or cheque.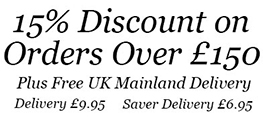 Measure your table size, then calculate the correct size tablecloth required by including the drop down the table
The Drop is how much the tablecloth will drop around the table
The Clearance is the distance from the bottom of the tablecloth to the floor
* A standard height of a table is 29" - 30"
Find your table size in the left column
View the options of tablecloth sizes for your table by using the horizontal column Example - Rectangular Table - Width & Length Of The Table Top
Rectangular table 2ft 6"wide x 6ft length = 30" x 72" This is a standard trestle table size
A tablecloth size of 70" x 108" will give a drop of 20" down each side and 18" down each end
A tablecloth size of 83" x 126" will give a drop of 27" down each side and 27" down each end [Full table coverage]
* A standard height of a table is 29" - 30" Calculation Method For Circular Tablecloth Size
(Tablecloth Size Diameter) Minus (Diameter Of The Table Top Surface) Then Divide By 2 = The Drop Around The Table
E.g. Tablecloth size diameter 130" (Minus) diameter of the table top surface 72" = 58"
Then 58" divide by 2 = 29" tablecloth drop around the table
Example - Circular Round Table 72" Diameter Of The Table Top Surface
A tablecloth size of 88" will give a drop around the table of 8" around the table
A tablecloth size of 108" will give a drop around the table of 18" around the table
A tablecloth size of 118" will give a drop around the table of 23" around the table
A tablecloth size of 130" will give a drop around the table of 29" around the table [Full coverage]
* A standard height of a table is 29"- 30"
Need any help on what is the correct size you require?
Please double check to avoid disappointment when your order arrives
Measure your table size - width and length or diameter
Send the details by using the Enquires & Sample Request Form
We Love To Talk call us on Free Phone 0800 612 1379


Ideal for Hospitality, Hotels, Restaurants, Healthcare and the Home.
The tablecloths are absorbent, soft and durable with a texture 'Cotton Feel' touch.
"Love Tablecloths" polyester tablecloths are strong, durable with low colour loss and minimal shrinkage. Made with 100% polyester vortex air spun textured, blended and twisted yarns. The tablecloths are woven, dyed and finished on state of the art machinery, given reinforced hems and high quality stitching to protect the longevity of the tablecloths.
Quick Overview
Wash at 50°C with a biological detergent - Do not overload the washing machine - Short spin cycle - Hang dry or low temp tumble dry - Medium temperature iron setting with steam.
How To Look After Your Polyester Tablecloths
Before you start to wash your polyester tablecloths please read the following guidelines.
Always sort different shades of tablecloths into white, coloured light, medium and dark shades for separate washing loads to avoid cross staining.
Do not mix with different fabric/fibre types. Washing or drying with 100% cotton and polyester/cotton blends with 100% polyester tablecloths will result in cotton lint attaching to the surface of the polyester fabric giving the appearance of pilling (or "bobbling)
Shake out the tablecloths to remove any cutlery, solid food residues and other foreign objects before loading into the washing machine. Items such as knives and pens can permanently stain and damage the fabric. The machinery may also be subject to damage.

Load the washing machine 3/4 full of its drum capacity, this will allow the tablecloths extra movement increasing the effectiveness of the washing process and reduces creasing.
Biological detergents are highly recommended. When residual stains, especially fats and oils are not removed by the washing process and then ironed, these stains will be set into the fabric by the heat of ironing and become hard to remove. Biological detergents contain special enzymes which help break down the fats and oils in the washing cycle.
Do not overload the washing machine. The tablecloths have to be able to move sufficiently in the washing machine, as it is the combined action of the water, detergent and heat in the wash program cycle time that dissolve, lift and remove the stains from the tablecloths. Overloading the machine will give a poor washing result and leave residual stains in the tablecloths and can cause hard crease lines by crushing the fabric.
We highly recommend polyester tablecloths are washed at 50°C with a short spin cycle setting 800-1000 maximum rpm.
High temperatures above 50°C washing and drying, without a sufficient cool down stage will result in Thermal Shock Creasing. This occurs when hot, soft and pliable polyester fibres are cooled too quickly whilst in a crumpled state. This results in small "broken ice" wrinkles type creases on the fabric surface.
For residual staining, using oxygen based bleaching agents will assist the washing process but these should not be substituted for a good wash process with adequate detergent. Care and attention should be given to the conditions of use.
Detergents containing OBA (Optical Brightening Agents) are only recommended on white goods. This will make a white fabric appear whiter and brighter.
The use of detergents containing OBA can alter the appearance of some coloured shades giving the impression of colour loss. Coloured fabric should ideally be washed in detergents that do not contain OBA.
Chlorine bleach (Sodium Hypochlorite) will cause colour shade changes, permanent colour loss and fabric damage will occur.Chlorine bleach should be avoided, if required use a small quantity on white polyester shades only.
For heavy stained items sponge down or wipe the stained area, add the fabric to hand warm water with a small amount of biological detergent, leave to soak and stand overnight in the washing machine, then wash on a standard full wash cycle with the full wash load dosage amount of biological detergent.
Using a small amount of fabric softener in the final rinse stage will assist in removing static and creasing. Adding too much fabric conditioner, will create a build-up of a barrier affecting the absorbency, touch and feel of the tablecloths.
Adding a small amount of white vinegar in the final rinse stage will act as a disinfectant. The vinegar smell will disappear upon drying.
All tablecloths should be removed immediately from the washing machine when the wash program has finished, followed either with a short tumble dry on a low temperature setting or line dried. This may be available on washing machines as a Permanent Press wash or Synthetics wash setting/program.
Use a low RPM spin cycle speed setting, this will avoid and minimize crushing of the fabric in the drum of the washing machine.
Polyester Tablecloths Dry Fast!!!!
Tumble drying - Do Not Over Dry and Check Continuously, dry on the lowest heat setting (if a damp moisture sensor setting is not available on the tumble drier) remove from the tumble dryer when slightly damp and immediately fold neatly to reduce ironing.
Line drying - Hang dry the tablecloths and they will be ready to iron within a few hours, as polyester hold less water than cotton after washing, this will make the tablecloths less creased before ironing.
Ironing is required. For best results polyester tablecloths should be ironed slightly damp. The action of the steam and pressure from the iron will make ironing faster and easier to remove the creasing. Start with the iron on the lowest heat setting that produces steam first and adjust the temperature slowly to find the optimum setting preference.
When the heat setting is too high it may scorch or melt the fabric. Always check and test on a small area first to find the correct temperature setting of your iron. The use of fine water mist spray is also recommended.
Ver 1.11